Spain vs Portugal predictions
Administrator: Spain 1 - 0 Portugal
The tactics of Portugal are simple, pass around the ball, and then give it to Ronaldo, for him to invent something. The game however will be different for Portugal, as Spain will dominate possession and pass the ball around, and pounce on an opening, while Portugal will try to counter attack. Last encounter by these 2 teams, saw Portugal hammer Spain 4-0, after the world cup of 2010. Spain's play is not that beautiful, however they still are getting results, and killing the game excellently, so they will continue using it. I don't expect many goals, and so Spain will win it 1-0.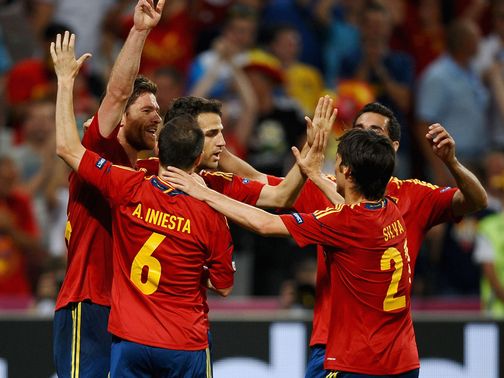 Twanny:
Portugal vs Spain 1-3
Both sides are currently on a three win streak so far in the tournament, but which team will end the other's unbeaten run? Portugal side Paulo Bento stated that patience is key if his side wants to have a chance of progressing through to the final. Bento has revealed that Portugal will not just sit back and defend, otherwise Spain would give them a proper footballing lesson. On the other hand, Spanish coach Vicente Del Bosque stated his intentions for his upcoming match. He knows that Cristiano Ronaldo is their

neighbor's

biggest threat, so he intend to throw Ronaldo off his game, just like the last match between the two sides, which Spain won 1-0. Del Bosque said that he would like Portugal to play in their own half, since Spain enjoy maintaining possession and also because he said that his side has solutions to that particular philosophy.
Nivek04: Portugal vs Spain 1-2
Portugal have been great reaching the semi finals and they will be looking to win against their neighbors, however this may seem more difficult since Spain have finally found the right way to play. Spain on the other hand started slow but with every game that passes they become more dominant and perform well. I think that this will be a very entertaining match with lots of action and Spain will come out on top eventually.