Germany vs Italy predictions
Administrator: Germany 2 - 1 Italy
This will be an entertaining match, as it has always been between these 2 sides. Germany always found it difficult to beat Itly, especially since Germany have never beaten Italy from 1995. Germany are favorites to win this game, but as Italy showed against England and Spain, they too have talent and will pose a threat. However Germany had 2 more days to relax, and had a much weaker opposition, were in the last match the front 3 were rested. Italy are coming from 120 minutes, so fatigue may be an issue for Italy. Italy also have injury problems with Ignazio Abate, Giorgio Chiellini, and Daniele de Rossi.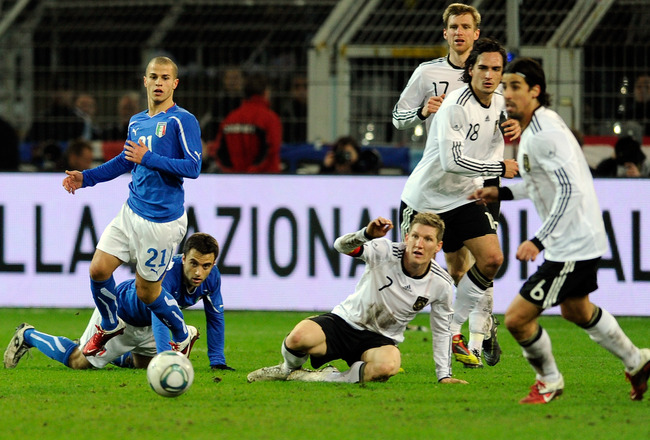 Twanny:
Germany vs Italy 1-0
Germany coach Joachim Low has backed his squad to change the course of history, as Germany have always lost against Italy in tournaments. Low continued by saying that for the current generation of footballers, the past defeats are not a decisive factor. After the fluid football displayed by the Germans, Low has backed his team to play with the same mentality against Italy - if they do, then (according to Low) they will surely win. Italy coach Cesare Prandelli replicated by saying that his side also intends to play its own style of football. Prandelli cocncluded by saying mentioning the two key ingredients to his winning formula, which are adrenaline and desire.
Nivek04:
Italy vs Germany 0-1
Who would have thought that Italy would arrive to the semi finals?! They had a great game against England and now they have full confidence that they can win. Germany are very wary of the Italians' capabilities and will be on the alert. Greece showed us that Germany is not perfect. It will be a good match to watch. Portugal were underdogs yesterday but they were the better team. However I do believe that the Germans will win although they will have to suffer for it.