Germany vs Greece Predictions
Administrator
: Germany 2 - 0 Greece
Some described this match as creditors by debtors, others Greece vs their sponsors and so many other political satire. Germany are favorites to win the tournament, while Greece is a surprising team that made it this far. Greece do not have quality players as they base on teamwork, while Germany is filled with stars, but teamwork is also important in the German squad. For me I can't see Germany lose this match, although Greece will try everything to force at least a draw, although they will not press for a win but operates from counter-attacks.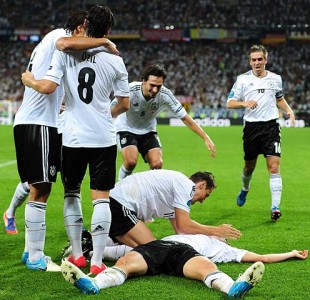 Twanny:
Germany vs Greece 2-0
Greece will be facing injury-free and tournament favourites Germany this evening. Jerome Boateng is set to return for Germany after serving his ban, but Greece are more worried, since their captain and undoubtedly their star player Giorgos Karagounis is dismissed. The Grece coach can either opt to play promising (but so far disappointing in the competition) midfielder Sotiris Ninis, or play a more experienced Giorgos Fotakis. Germany also have in-form Mario Gomez, who is also the current top scorer of the tournament, along with Alan Gzagoev and Cristiano Ronaldo.
Nivek04:
Germany vs Greece 2-0
Greece shocked many people when they won against Russia and qualified in their place. They defend well, but they do not have a strong attack. Germany had it easy, or maybe they made it seem look easy. They were never really in big trouble in the group stage. They have a great squad and great quality individually as well. They will surely win this game without much effort. Maybe the first half will be a bit tight but in the second half they will dominate the game.