Germany 4 - 2 Greece (full-time) UPDATED
Germany dominated the match until now, and in fact the score should have been far more than only 1-0. Germany wanted to score immediately as barley a minute passed when Ozil passed to Miroslav Klose but he was fractionally off-side. Then again within a few minutes Germany had another chance, when Khedira's shot was saved by Michalis Sifakis, and Schurrle scored the rebound but he was off-side. Greece responded, although rarely, Grigoris Makos, but his shot was saved comfortably by Manuel Neuer. Reus could have also scored for Germany, Khedira gave him the ball, but his shot went wide. Greece were trying to operate from counter-attacks, but the chances always go away as fast as they came. Reus then gave a through ball to Ozil but the shot was saved again by the Greek goalkeeper. Reus again was presented with a chance but his shot was parried into corner by Sifakis. Ozil again found Khedira in the box, but yet again Sifakis saved a certain goal. Germany finally, took the lead when Philipp Lahm found space and with a beautiful shot he beat the Greek goalkeeper, to put Germany in front.
Germany weren't happy and in fact started immediately to find a second to try to seal the win before half-time. In fact the shot from distance by Schurrle hit the side-netting, but only just. Possession until half-time Germany 82%, which shows how dominant they were!
2nd half
What a half this was! Germany again dominated the half as they searched to seal the win as early as possible. The Greeks, against all odds, grabbed a ball with a counter attack, Salpingidis ran through the Germany defense and crossed the ball towards Samaras who flicked the ball into the back of the net to make it level. But after 3 minutes Germany scored again the winner. Boateng gave a beautiful ball in the box, and with a magnificent volley, Khedira put Germany in front yet again. What a goal that was!
Greece responded immediately and could have scored, when Gekas won some space in the German defense and tried a shot which went high. However, Germany were never really in danger in losing this match. And Germany sealed the win a few minutes later, Ozil crossed and Klose scored the header, although one have to say that the Greek keeper made a mistake there. And it could have been four a minute later by Klose but Sifakis saved the ball yet again.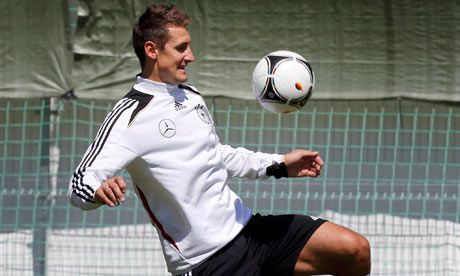 Greece responded with a shot from way out by Liberopoulos, but it went way out. Germany had time to score the fourth goal, scored by Reus after Sifakis saved a shot from Mario Gomez. Germany continued to dominate and they could have added another when a shot by Ozil was saved yet again by Sifakis, who had a lot to do today.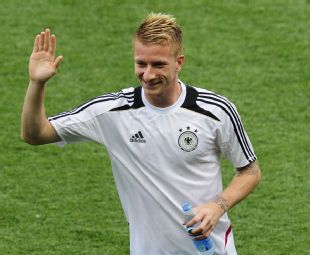 Greece then knew that it's better for them to try to hold possession, as Germany could score from anywhere. Germany defense appeared solid as was seen by a marvelous tackle from Hummels on Samaras, who for me he is the best defender until now in this competition. Germany then tried also to hold possession as the match was already over. Greece were given a penalty in the final minutes and Salpingidis converted it to make the score more respectable.